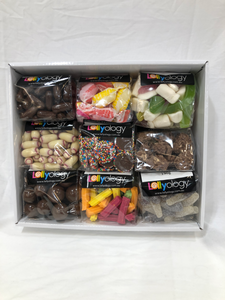 Lollyology Gift Box with:
With a mix of products such as: Chocolate Speckles, Sour Cola Bottles, Fruit Sticks, Clangers, Milk Licorice Bullets, White Raspberry Bullets, Sherbet Bombs, Party Mix, Sour Peach Hearts, Whirl Mix.
Contact us to personalise your box or order one of our ready made boxes.
Note, US items, UK items and Rock Candy may increase the price.